Sebuah perspektif baru hadir di dalam dunia aquascape aquarium ini. Acara Aquatic Gardeners Association (AGA) Contest tahun 2013 dikejutkan dengan beberapa foto aquascape aquarium yang beda dari yang lain. Beda dari biasanya, aquascaper biasanya membuat aquascape nya agar indah untuk terlihat dari depan, namun pada aquascape aquarium yang satu ini, sang aquascaper membuat aquascape aquariumnya agar terlihat seperti kita melihat ke arah langit.
Berikut adalah foto dari aquascape aquarium tersebut:

Berikut adalah komentar para juri atas foto dari aquascape aquarium tersebut:
This layout shows a different point of view that I didn't expect before. I appreciate this kind originality.

Dave Chow
This is a very original layout! It surprises us with the unusual point of view!!! I can imagine the dificulty to fix the driftwood in right positions ... Congratulations!

Luca Galarraga
Amazing perspective.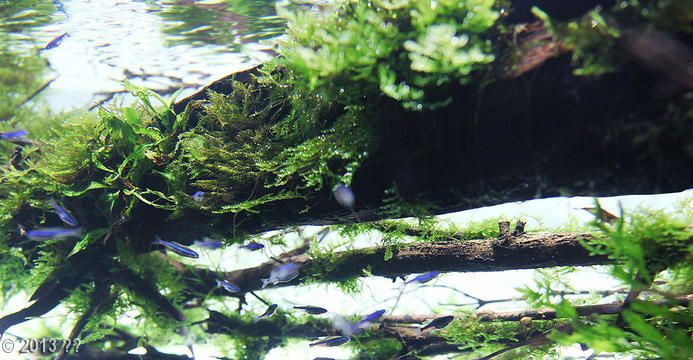 Fokus salah satu batangnya
Bagian langitnya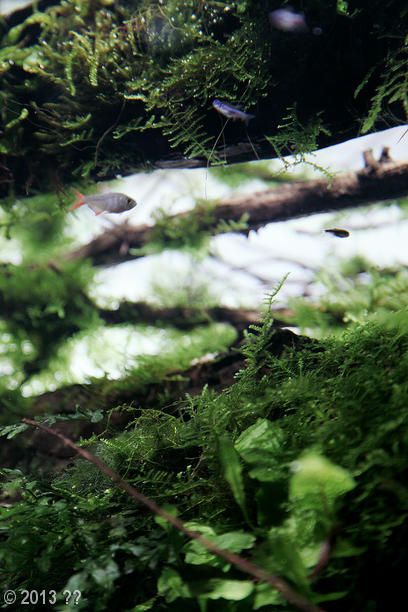 Ikan yang digunakan
Penasaran dengan spesifikasi aquascape aquariumnya? Ini adalah spesifikasi yang tertera pada web AGA:
| | |
| --- | --- |
| Tank Size | 120 x 60 x 50 cm (47 x 24 x 20 in) |
| Volume | 360L (95 gallons) |
| Lighting | 150w*2 |
| Filtration | EH2075+EH2026 |
Title
Langit
Plants
Triangle moss, Bamboo grass, yang lainnya gak tahu. Udah berusaha translate tapi nggak ada jawaban yang masuk bro.
Fish/Animals
Green Neon Tetra, Black Line Flying Fox, Elf Shrimp
Decorative
Materials
Driftwood